APUCEN President's Inauguration Ceremony – Community Engagement Through Knowledge Exchange
BRUNEI DARUSSALAM l 5 December 2016
In the direction to promote university-community engagement, the Asia-Pacific University-Community Engagement Network (APUCEN)'s new President, Professor Datuk Dr. Asma Ismail, in her new Presidency speech, promised to strive to work together hand in hand with all members of APUCEN to move to higher levels in University-Community Engagement.
"I would like to put my experience as the former Director-General of Higher Education, in the Ministry of Higher Education Malaysia for the past two years into good use to bring APUCEN to greater heights and reaching out to a broader community beyond our region," said Asma during the President's Inauguration Ceremony held in conjunction with the 9th Regional APUCEN Council Meeting at Kolej Universiti Perguruan Ugama Seri Begawan (KUPUSB).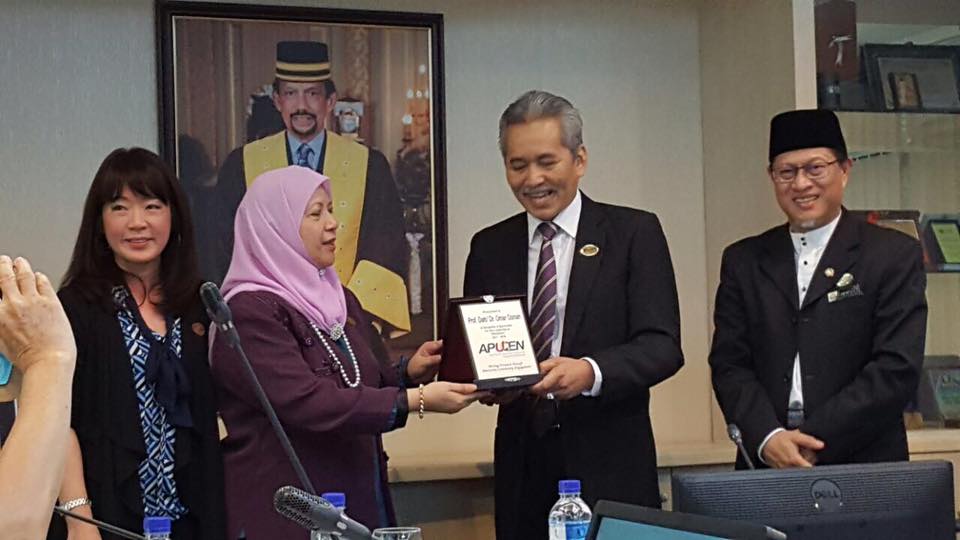 Asma's inauguration might take a new turn for APUCEN, and from that APUCEN will continue to move forward and position itself in the global arena.
She strongly emphasised on the needs to nurture the future generation, to have a balance in knowledge and character.
"This generation will be learning from the community and it is very important to instill the university-community engagement concepts in them, so that they will be able to give back to the society.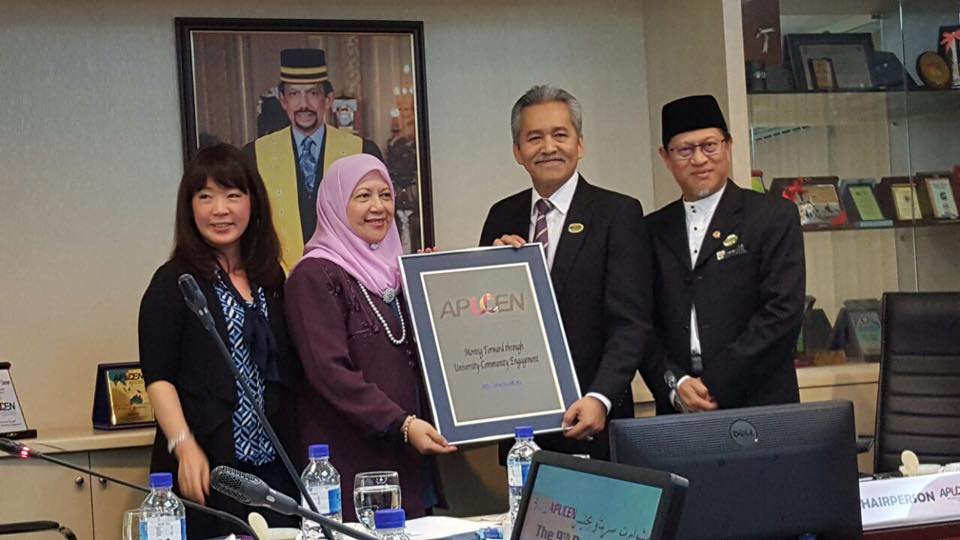 "Hence with this, APUCEN will move towards the direction not only in knowledge transfer but in knowledge exchange, enabling sustainable change to the community," she said.
She added that APUCEN will work with partners in multi-disciplinary fields to mould the communities as well as to co-learn and also to help humanity, in addition to community-engagement.At the same ceremony, the Past President, Professor Dato' Dr. Omar Osman spoke of how APUCEN was initiated and launched in July 2011 with the belief that institutions of Higher Learning and the community can unite to co-create knowledge towards enhancing the social, economic, health, education, cultural/heritage and environment of the community in the Asia-Pacific region.
APUCEN, although considered as one of the many new networks, at only 5 years old, had indeed moved far and flying high under the leadership of Omar and had grown beyond the Asia-Pacific region, where currently members include USA, Germany and South Africa.
This auspicious ceremony was witnessed by the Acting Ra'es of KUPUSB, Dr. Haji Adanan bin Hj. Basar and other Council members from Universiti Sains Malaysia, Universiti Islam Sains Malaysia, Universiti Putra Malaysia, and Universiti Utara Malaysia (Malaysia); Thammasat University (Thailand); University of Andalas (Indonesia); Australian College of Applied Psychology (Australia) and Kyoto University of Foreign Language (KUFS).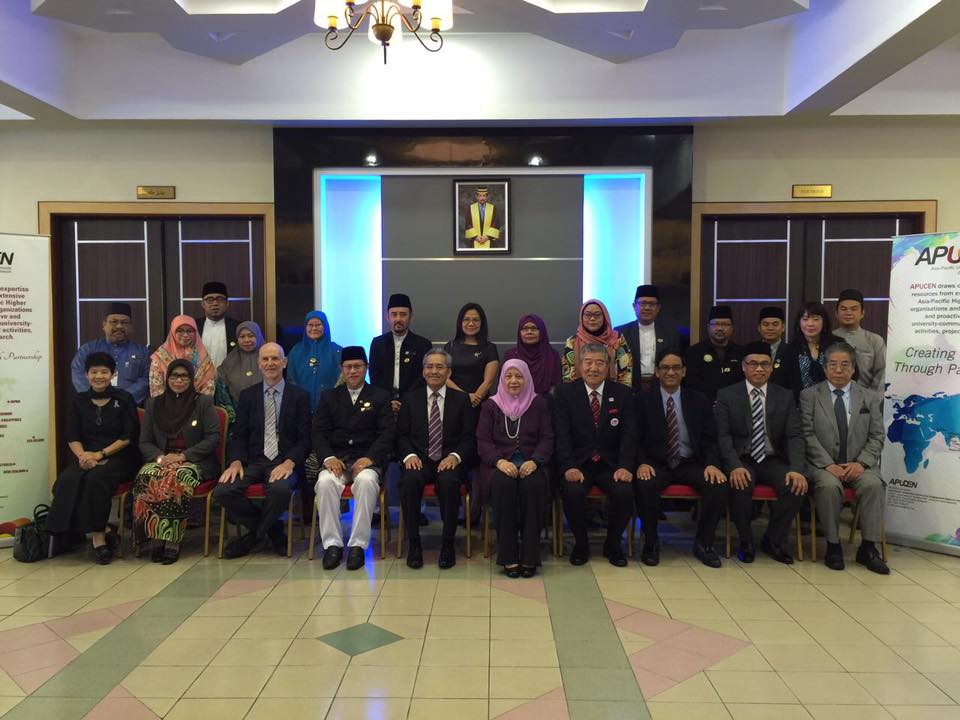 The 9th Regional APUCEN Council Meeting was successfully held in KUPUSB and several discussions on the way forward were discussed and one of the key issues discussed was service learning and incorporating volunteerism and service learning as part of the university co-curriculum. The involvement of students and young lecturers in university-community needs to be focused because they will be future champions in community engagement.
All APUCEN members were exposed to the community engagement project at the water villages of Brunei, highlighting the supporting facilities including treated water and electricity supply.